What is a Porsche Carrera GT?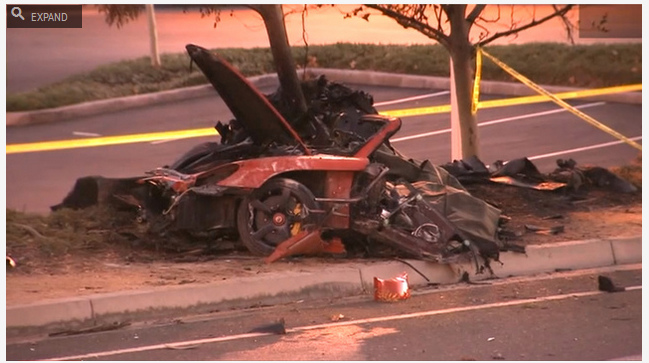 The Carrera GT is the car that actor Paul Walker was in when he met his untimely end.  It appears, based on numerous media reports that the Porsche Carrera GT is the most evil of cars and solely responsible for his death.  Many of these news sources have taken blurbs of automotive reviews to offer "proof" that the car is too dangerous for mere mortals, forgetting that the car was never meant for the novice.    Most of us that love cars and car culture all know stories or have witnessed first hand how quickly a super car can turn ugly, or that story of a business professional who buys a Porsche turbo only to bury it in a guard rail a few minutes after leaving the lot.  Even serious car people, like Jay Leno have wreck super cars.  Specifically, he spun out his Carrera GT on an oval race track....he was going about 180mph.  The point is that any car can kill when driven to its limit. The Story of the Carrera GT:
Released at the 2003 Geneva Auto Show, Porsche's Carrera GT was a final production version of the concept car first seen at the 2001 Paris Auto Salon. It was Porsche's first limited production supercar since 959 production stopped in 1988. At the time of launch, it was one of the few available products that rivaled the Ferrari Enzo.
Unlike the 911, which carried the company for four decades, the Carrera GT was complete bottom up design. Its styling was thankfully unchanged from Paris show car and departed from the traditional Porsche shape which the 959 couldn't escape.
Motivation for the Carrera GT came directly from Porsche's successful motor sports program and the Porsche WSC-95 Le Mans prototype. After winning Le Mans twice in 1996 and 1997, Porsche revived an old V10 engine for the 1999 season but it was shelved only two days into track testing. Fortunately, the 5.5 liter V10 was used in a one-of 2001 Paris Auto Salon concept car which was received well enough for production to begin two years later. Final Assembly commenced at Porsche's Leipzig plant and the car sold with an MSRP of $440,000 USD, $515,000 CAD, or €390,000.
Under the skin, the car used many modern hallmarks of motor sport engineering: a carbon fiber chassis, dry sump lubrication, inboard suspension and a mid-mounted engine that was engineered to sit as low as possible to ground. Careful attention was also paid to under tray airflow which could be managed better than the rear-engine 911.
Porsche's V10 engine can trace its roots back to a unit developed in secret by Porsche for the Footwork Formula One team. This development halted in 1992, but was resurrected for a WSC-95 successor that was never completed. Bored out to 5.5 liters, this unit then found its way into the Carrera GT Prototype. When production commenced, it was modified by Porsche engineers to ensure more power and reliability. Such revisions included a larger displacement which offered more torque and driveability.
Despite announcing a total production of 1500 units, only 1270 came from the factory in Saxony. Porsche stopped after airbag regulations changed in the US. It is also important to mention that the Carrera GT wasn't meant to become the fastest road legal supercar. Had Porsche tried to chase the McLaren's performance figures, production (planned at 1500 cars), profitability and comfort would have suffered. Read more at http://www.supercars.net/cars/2387.html#HRlZtlmp48y6zibo.99
Here is the Top Gear Review:[youtube id="vE_WqdKbTvY"]