Ahhhh yeahhhh!  For those of you who don't want to go outside and breath the spring air this weekend should provide some serious motorsport entertainment.
F1 Grand Prix of China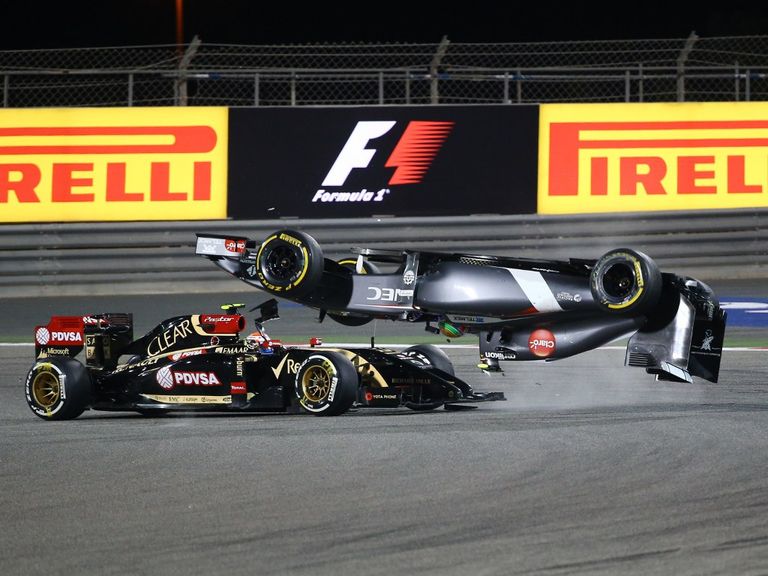 First up is the Mercedes World Championship Super-Awesome Racing Series, Formula 1 Grand Prix of China.  Going into this race we have Red Bull only a few days ago losing their appeal  concerning their fuel flow sensor issue from Australia, Team Mercedes is only two weeks from their last inter-team battle in Bahrain, and Ferrari have replaced team principal Stefano Domenicali with a car salesman.
In free practice, Pastor Maldonado continued his car destroying ways:
[youtube id="TF7B6oTbwnQ"]
Chinese GP - Friday - Practice Session 2 Results
Friday Practice Session 2
POS
DRIVER
NATIONALITY
ENTRANT
TIME
1.
Lewis Hamilton
Britain
Mercedes GP
1:38.315
2.
Fernando Alonso
Spain
Ferrari
1:38.456
3.
Nico Rosberg
Germany
Mercedes GP
1:38.726
4.
Daniel Ricciardo
Autralian
Red Bull-Renault
1:38.811
5.
Sebastian Vettel
Germany
Red Bull-Renault
1:39.015
6.
Felipe Massa
Brazil
Williams-Mercedes
1:39.118
7.
Kimi Raikkonen
Finland
Ferrari
1:39.283
8.
Jenson Button
Britain
McLaren-Mercedes
1:39.491
9.
Romain Grosjean
France
Lotus-Renault
1:39.537
10.
Daniil Kvyat
Russia
Toro Rosso-Renault
1:39.648
11.
Nico Hulkenberg
Germany
Force India-Mercedes
1:39.736
12.
Kevin Magnussen
Denmark
McLaren-Mercedes
1:39.744
13.
Jean-Eric Vergne
France
Toro Rosso-Renault
1:39.759
14.
Valtteri Bottas
Finland
Williams-Mercedes
1:39.830
15.
Sergio Perez
Mexico
Force India-Mercedes
1:40.124
16.
Esteban Gutierrez
Mexico
Sauber-Ferrari
1:40.359
17.
Adrian Sutil
Germany
Sauber-Ferrari
1:40.395
18.
Pastor Maldonado
Venezuela
Lotus-Renault
1:40.455
19.
Jules Bianchi
France
Marussia-Ferrari
1:42.327
20.
Max Chilton
Britain
Marussia-Ferrari
1:43.473
21.
Kamui Kobayashi
Japan
Caterham-Renault
1:43.530
22.
Marcus Ericsson
Sweden
Caterham-Renault
1:43.679
WORLD ENDURANCE CHALLENGE
Next up is the World Endurance Challenge from Silverstone, England.  If you want a preview of the 24 Hours of LeMans then you should watch this race.  Radio LeMans will stream audio and this site will stream video:
This will also be the debut of recently retired F1 driver, Mark Webber in the Porsche 918.
[youtube id="YpVFmONVQ_I"]
 WEC Free Practice 1
Pos Cl    Drivers                            Car                   Time       Gap
 1. P1    Dumas/Jani/Lieb                    Porsche               1m44.042s
 2. P1    Kristensen/Duval/di Grassi         Audi                  1m44.470s +0.428s
 3. P1    Davidson/Nicolas/Buemi             Toyota                1m44.661s +0.619s
 4. P1    Lotterer/Treluyer/Fassler          Audi                  1m44.717s +0.675s
 5. P1    Wurz/Sarrazin/Nakajima             Toyota                1m45.066s +1.024s
 6. P1    Bernhard/Webber/Hartley            Porsche               1m45.157s +1.115s
 7. P1    Heidfeld/Prost/Beche               Rebellion Lola-Toyota 1m45.593s +1.551s
 8. P1    Belicchi/Leimer/Kraihamer          Rebellion Lola-Toyota 1m46.418s +2.376s
 9. P2    Pla/Rusinov/Canal                  G-Drive Morgan-Nissan 1m51.004s +6.962s
10. P2    Minassian/Zlobin/Mediani           SMP ORECA-Nissan      1m51.743s +7.701s
11. P2    Bradley/Howson/Imperatori/Matsuda  KCMG ORECA-Nissan     1m52.330s +8.288s
12. P2    Ladygin/Ladygin/Shaitar            SMP ORECA-Nissan      1m52.538s +8.496s
13. GTE P Pilet/Bergmeister/Tandy            Manthey Porsche       1m58.981s +14.939s
14. GTE P Makowiecki/Holzer/Lietz            Manthey Porsche       2m00.455s +16.413s
15. GTE P Bruni/Vilander                     AF Corse Ferrari      2m00.519s +16.477s
16. GTE P Griffin/Parente                    Ram Ferrari           2m00.803s +16.761s
17. GTE A Rugolo/Wyatt/Bird                  AF Corse Ferrari      2m01.210s +17.168s
18. GTE P Calado/Rigon                       AF Corse Ferrari      2m01.279s +17.237s
19. GTE P Turner/Mucke                       Aston Martin          2m01.853s +17.811s
20. GTE A Bachler/Ried/Al Qubaisi            Proton Porsche        2m02.023s +17.981s
21. GTE A Cioci/Perez Companc/Venturi        AF Corse Ferrari      2m02.033s +17.991s
22. GTE P O'Young/MacDowall/Rees             Aston Martin          2m02.075s +18.033s
23. GTE A Potolicchio/Ruberti/Roda           8Star Ferrari         2m02.230s +18.188s
24. GTE A Collard/Perrodo/Vaxiviere          ProSpeed Porsche      2m02.444s +18.402s
25. GTE A Poulsen/Heinemeier/Stanaway/Thiim  Aston Martin          2m02.640s +18.598s
26. GTE A Dalla Lana/Lamy/Nygaard            Aston Martin          2m02.964s +18.922s
27. GTE A Mowlem/Collins/Patterson           Ram Ferrari           2m02.993s +18.951s