Rennsport VI Part II: More Unpacking
In our first report, we went on and on about how wonderful and amazing and grand and fabulous Rennsport was. Everything we said was true, and as the event was so over-the-top, we need more than one post to try to convey its entirety. In the first report, we told you about two of the heaviest hitting attractions/aspects of the extended weekend. For this report, we'll give you a smattering of some more of the human and mechanical features of the weekend.
The humans in attendance….
What's a great P-car party without guests? We doubt there have been more Porsche luminaries together in one place at the same time. From the company employees who have designed and made road and race cars we all love, to Porsche drivers throughout the years to the people and personalities that continue to promote and refine the brand today, they were all around us. This was a weekend where everyone got to meet their heroes, and Porsche did everything to facilitate. Sure, you could see notables walking around the paddock and grounds, taking it all in, but there were also 12 massive autograph sessions, attended by most of the "legends" and other company invitees. Better yet, many of them took turns driving in 7 classes of amazing and significant cars around the 2.2 mile track. If they weren't driving, chatting with fans or signing autographs, the weekend featured numerous Q&A sessions at the massive Porsche Paddock Stage.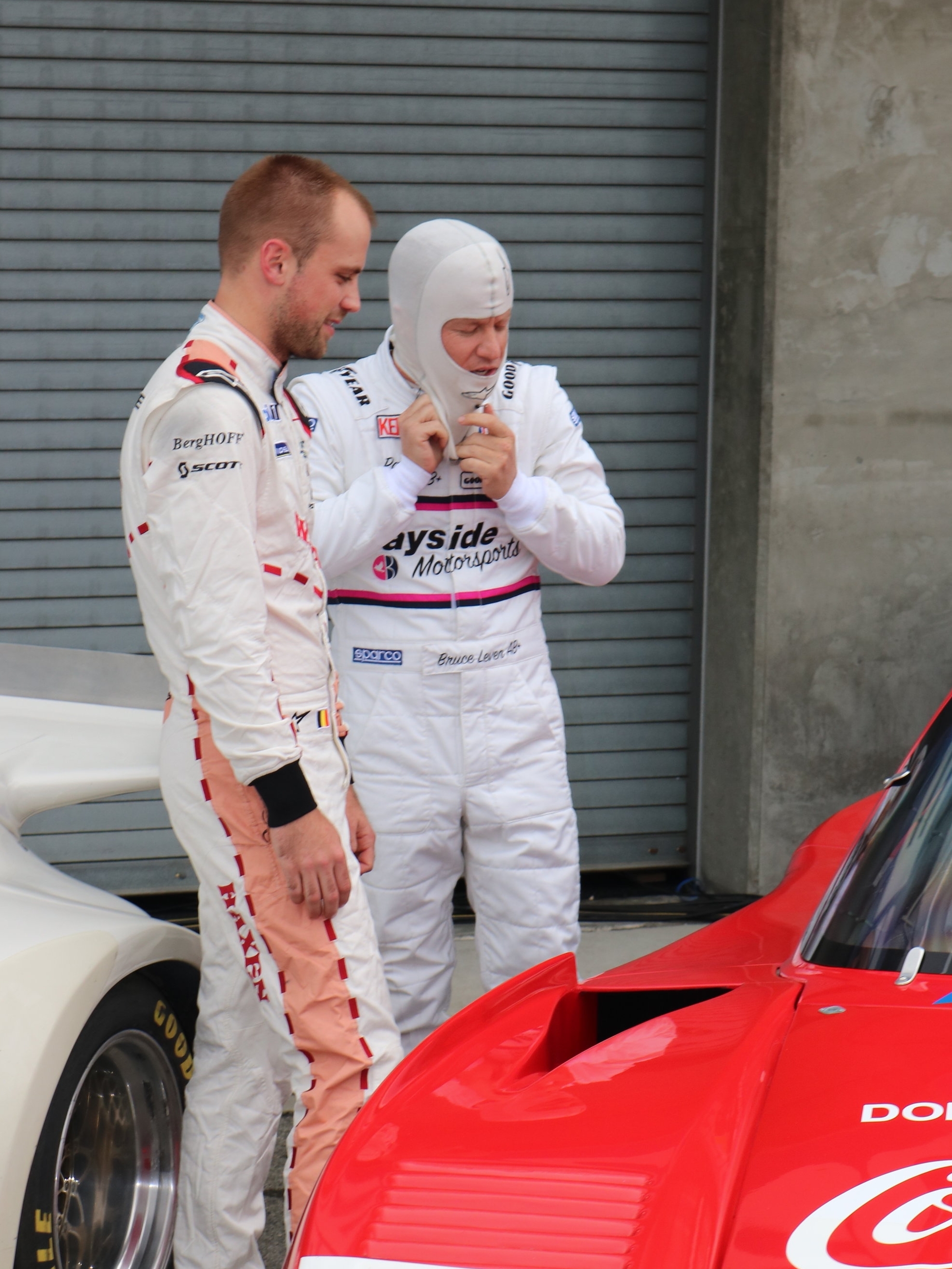 As we mentioned in our first report, the attendance for the event topped a staggering 80,000! The crowds were amazing and enthusiastic. There was a little something for everyone. The aforementioned Porsche Square was a centrally located common area flanked venues for fan activities, swag store, German themed food and drink concessions and a building devoted to "Porsche Classic," the company's arm devoted to restoring classic Porsches and helping others keep them on the road, no matter what the vintage.
The Shuttles…
The shuttles you ask??? Why would anyone be interested in event shuttles? We've all piled into busses, vans and golf carts before…who cares? Well, apparently, Porsche cared…and they cared alot. Sure, there was some normal shuttle traffic event, but they were well outnumbered by the official Porsche shuttles. As we entered the paddock on Friday afternoon, we were first blown away by the number of people, and second, by the line of iconic racing liveried Panameras waiting to take any and all, who cared to stand in line, up to the track's hallowed "Corkscrew," and other parts of the sprawling grounds. Like we've said, Porsche pulled out all the stops for this shindig.
The corrals…
Almost every race or event we've ever been to at Laguna Seca has had some amount of organized corrals so that car clubs, event sponsors and other organizations can park together, have a common meeting place and otherwise show off their whips in a parking lot. The last Rennsport was no exclusion…the sea of Porsches around the track's lagoon area was packed with all types of P-cars. It was pretty much breathtaking to see so many of the company's wares all in one place at one time. This year was somehow bigger than Rennsport V…a lot bigger…there was more of everything and spread out over more acreage. The area south of the lagoon looked like a sea of skittles, there were so many cars. That newly paved parking area was even more impressive, as it was roughly divided my model and then by body style. 928s over here, 914s and 912s way over there, 911s on that side and lets not just put all the 911s together. The 911 rows were even delineated by generations, aircooled at one end and watercooled at the other. SCs, 964s, 993s, 996s…you get the point. Wings, no wings, bathtubs, stock, custom, for sale and not, there were just thousands and thousands of Porsches everywhere. As if that wasn't enough, there were even corrals in the paddock area. In a sign of the times that all porschphiles can get along no matter which flavor they prefer. There were corrals for 356 based outlaws, R Gruppe cars, one for 959s and even one for Porsche tractors. The selections in each of these corrals changed all the time, so there was always something new to see each time you happened to walk by. It also seemed to serve as a great venue for owners, restorers, fabricators and old friends and acquaintances to get together to talk shop, catch up, BS or otherwise, "see and be seen."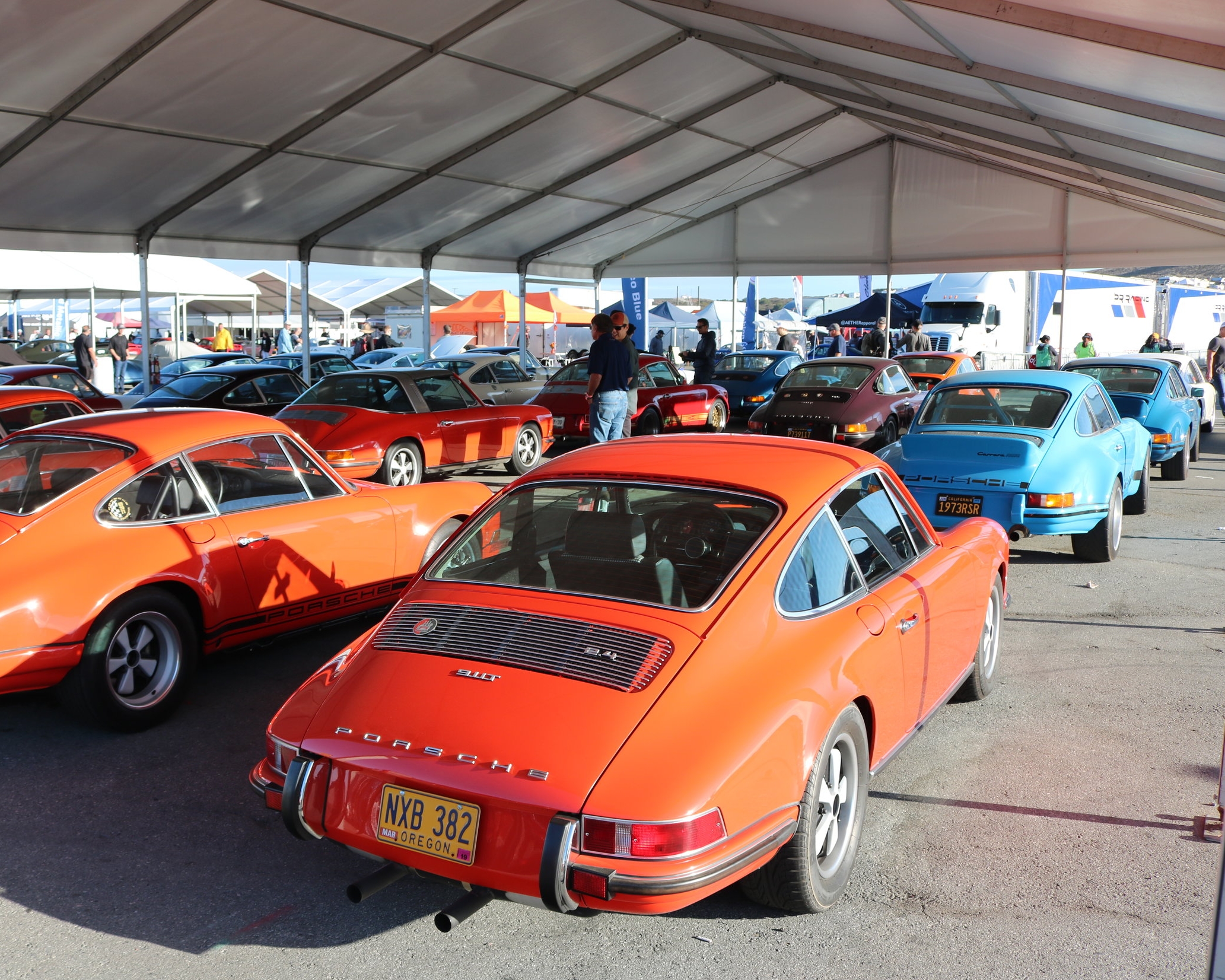 Chopard Heritage Display
We knew from our experience at Rennsport V that there would be a Chopard Heritage Display. Arriving at the track we were a little wired…actually really wired, like too much coffee wired at the thought of what would be on display. We were not disappointed. The Chopard Heritage Display featured 70 historically significant cars representing some of the best of Porsche history, both in racing and on the road. Summarizing it as a trip down the lane of the oohs and ahhh of Porsche history would be grossly inadequate. On our first day at the event we arrived at the Chopard Display a little later than we would have liked forgoing our typical zero dark thirty starts with a more mature and reserved 7am start time. With the previously mentioned 80,000 fans that attended the event over the three days, once the crowds arrived it was often elbow to elbow inside the circus tent. However, on our second day we arrived as the gates opened and silently made our way straight to the tent. It was here as the sun was rising above the hill overlooking the track that we had our moments with the rare and varied Porsches. It was one-off special editions, winners of prestigious racing events and a victory lap of automotive dominance over the last 70 years. It was all in the numbers, 356, 911, Type 64, 904, 908, 962, 917, LMP and so on. In the morning glow with the fog slowly receding time in the quietness of the tent one could hear the whispers. These fantastic beasts were telling their stories of triumph and milestones. .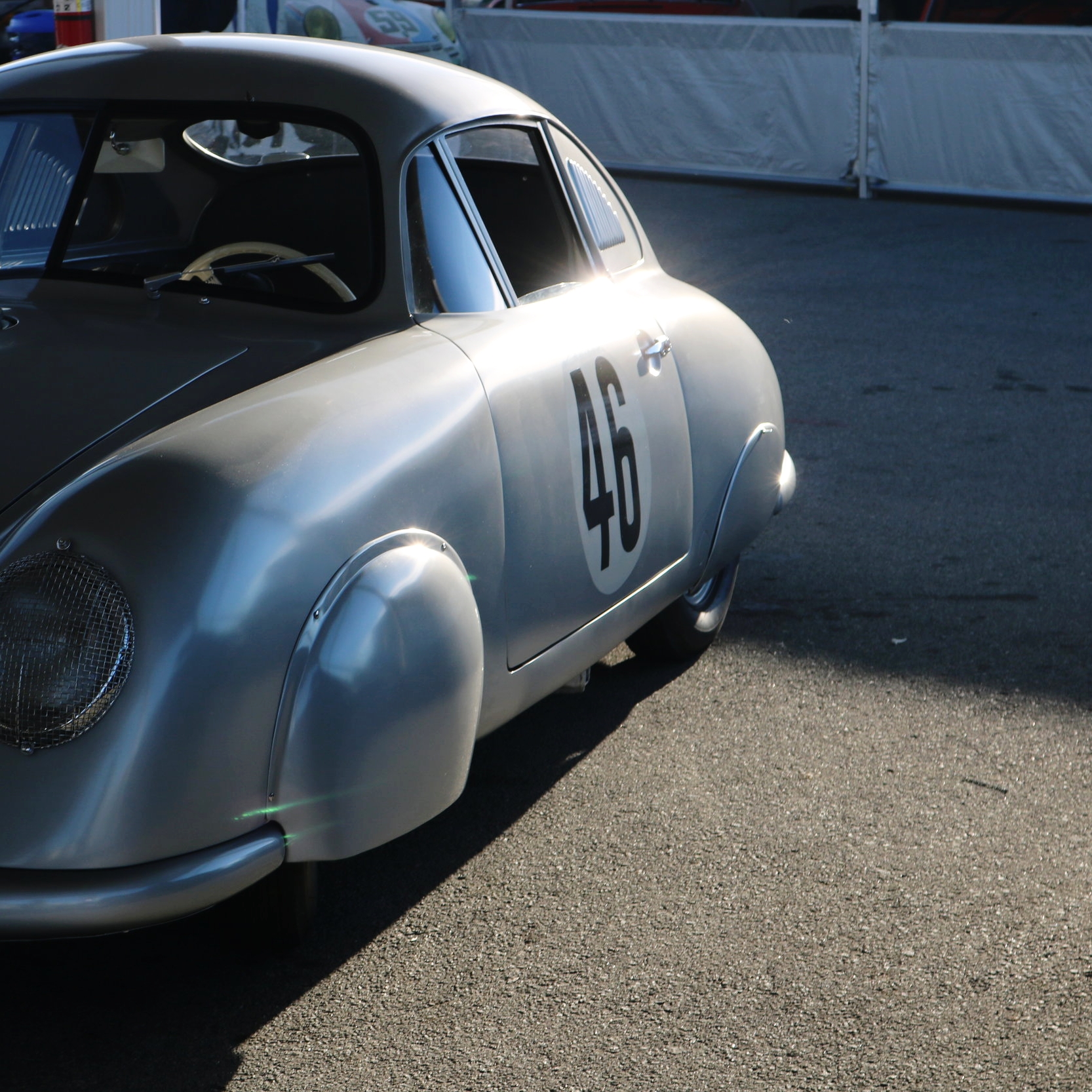 Porsche Champions Garage:
It was a display of Porsche's most triumphant and iconic race cars. On the far end of the garage display was the garage area of the Porsche 919 Hybrid Eco Tribute car and anchored at the other end the Porsche 356 "NR. 1" Roadster. They were apt historical bookends from when it all started, to today's sports car superiority. The "Number One" was the first sports car with the Porsche name. Built in 1948 on the road June 8th of that year, only two months later it would compete and win at the Innsbruck Street Race. It had almost appeared at the 1998 Monterey Historics but was damaged during transport in Chicago. Returning to the Porsche Museum it would not make its North American debut until 10 years later at the 2008 Pebble Beach Concours d'Elegance. Ten years later here it was again on North American soil, the car that started it all.
In 1984 Porsche deciding that dominating sportscar racing the world over wasn't enough decided to take on the Paris-Dakar Rally, then a 14,000 kilometer race through the Sahara. Porsche created the 911 3.2 4x4 (953) to take on the challenge with Driver Rene Metge and co-driver Dominique Lemoyne. With their win they would put Porsche on top of another motorsport contest. At a time when safety standards were not necessarily the first thing that engineers thought of, the 953 had a 120-litre fuel tank in the luggage compartment and 150-litre tank mounted behind the drivers seat. The 953 was Porsche's initial assault that would lead to development of the four-wheel drive 959 that competed in the 1985 and 1986 events.

The garage also featured the first racing sports car from Porsche with a carbon fibre chassis as a monocoque, the Porsche 911 GT1 '98. It was also the first time Porsche used carbon fiber brake discs on a works race car. It was the last road car to win the 24 Hours of LeMans, though the designation as a anything close to a road car was a stretch. To meet FIA regulations manufactures had to produce road going versions of their race cars to meet the homologation rules. Porsche built one road going unit to comply with the rules. Porsche would field two factory cars in the 1998 24 Hours of LeMans and take first and second place, winning the legendary race for the 16th time and setting a record for the most wins by a manufacturer in history.
The aforementioned cars were just 3 of those on display in the Champions Garage. Lest we forget, the RS Spyder LMP 2, the 917H, 962, 911 RSR and so on. Check the gallery.
The special stuff..
And as if all of these things weren't enough, the event featured a couple of "special" things, one of which we were aware of in advance and the other, a total surprise. The known quantity was the unveiling of Classic Project Gold. This car was a special project from Porsche's Classic division aimed at highlighting the brand's tradition, as well as its innovation. The 993 turbo based car was built over a year and a half and cruelly teased out to us in video clips over the past few months. Per the company's website, the example that was unveiled at Rennsport will be one of 70 built to celebrate the 70th anniversary. The car appears as a "normal" boosted 993 in a spectacular color called Golden Yellow Metallic which you may have seen featured on Porsche's current Turbo S. The interior is filled with lots of custom, and mostly gold, touches. The lump is a brand new 3.6 liter turbo with 450 horses and a manual transmission and it's all-wheel-drive to boot. All of the engine and transmission parts for this retro update can be sourced back from Porsche. It's a modern classic if ever there was such a thing, and 100% P-car in every way. The Classic Project Gold car was the first car many of us saw coming into the event, and to double down on the shock and awe delivery of things for the weekend, Porsche parked a brand new Turbo S in the same brilliant gold paint, right next to it. It was straight #OverGold. It was everything we wanted to see and everything they promised to show us.
But there was another thing they brought to Rennsport that was not on the menu. Throughout all the hype and pre-coverage of the event, they managed to hide a "whale." Pardon the pun, but in this case it's also a literal statement. Porsche suckerpunched us all by unveiling its new 935 "moby dick" homaged and Martini liveried track killer. It's more or less a new GT2, but it was a GT2 on both crack and steroids. It was big, long, swoopy, winged, carbon fiber and sported a set of modern turbofan wheels that had us at hello! It is a ridiculous car made further ridiculous by the fact that Porsche didn't homologate it, so it really can't compete in m(any) sanctioned race series. The 77 lucky sons-a-guns who can afford the $800,000+ price tag will essentially be buying a license to hoon on track days. God belss those lucky 77 buyers, and we just hope we are able to see one in action some day. Dr. Frank-Steffen Walliser, VP of Porsche Motorsport and GT cars described it as a present "from Porsche Motorsport to fans all over the world." Happy birthday to us! And another birthday present to us was parked next to the 935 all weekend.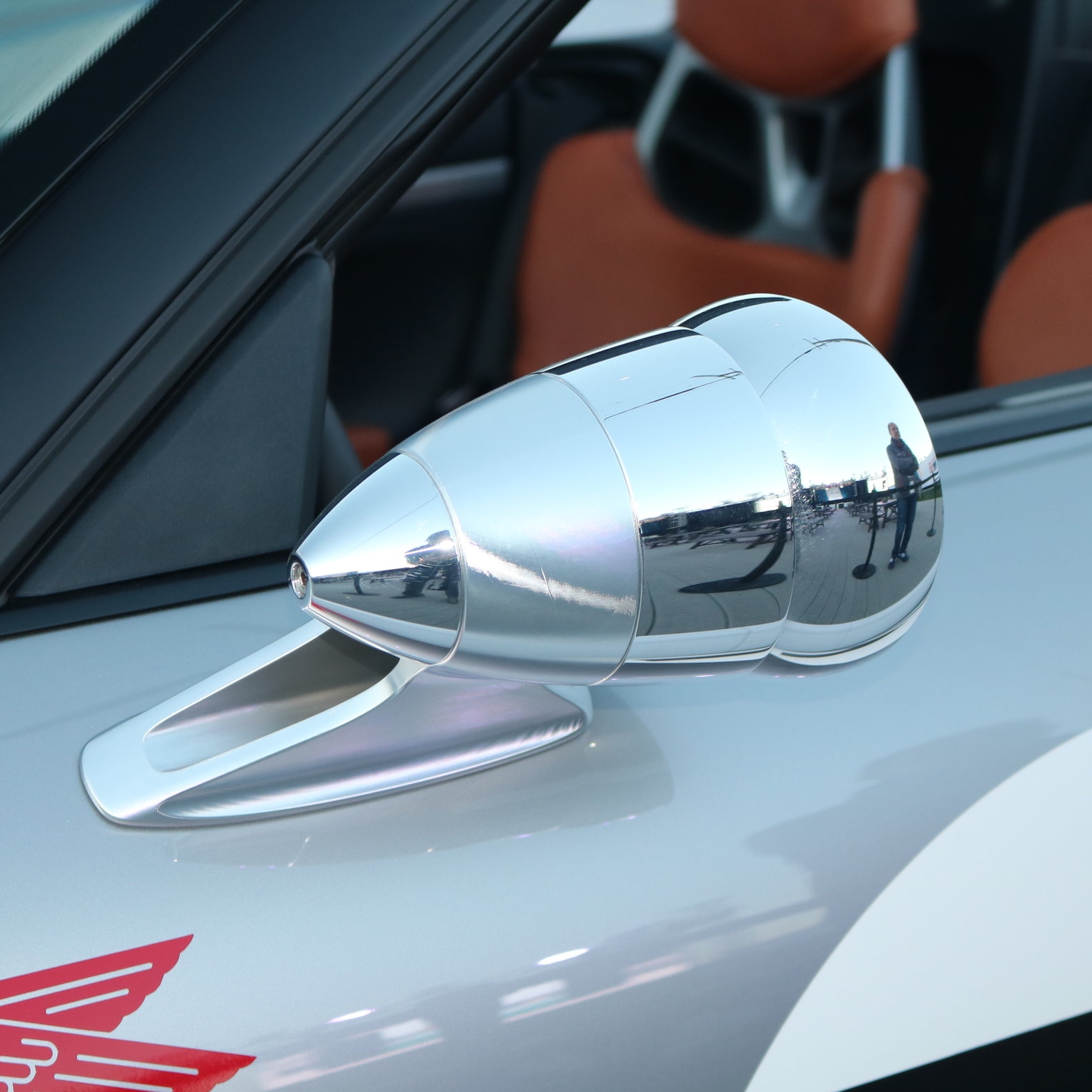 The Porsche 911 "Speedster Concept" was finally in front of us, for all to ogle, and as we'd hoped, it was pure car porn. This one was as good looking in person as it looks all over the internet. There isn't a lot we can say that hasn't already been pointed out by, well, everyone. It's big, the gas fill is centered on the bonnet and the side mirror, yeah, it's magnificent! We were initially put off by the lack of exhibition of and access to these two gems, but now that we've had time to reflect, it was for their own protection. If they'd been out in the open, level of overt groping and drooling (on) would have been pretty obscene. It's hard to believe that both of these will be on roads and tracks soon, and all seemingly because Porsche just wanted to basically show off. We can't imagine either of them will make the company a penny, quite the contrary. We trust they know what they're doing, and we know that what they're doing is burnishing their reputation and throwing down the gauntlet for the rest of the world's automakers.
Rennsport wasn't just an homage to the company's past. It was also a reminder of our changing future where words like "mobility" attempt to replace our understanding of getting from A to B. The arrival of new powertrain technologies puts an even greater emphasis on Rennsport and the history of Porsche. The simplicity of the 4 cylinder powered 356 to the snarl of the 917s to the advanced space technology of the 919 Evo Hybrid, Rennsport is a salute to a changing culture. The advance of compact engines to hybrid technology, and full electric drive are changing the automotive philosophy in ways we don't yet fully fathom. That's why we saved this last feature for the end of this report.
Porsche's harbinger of things to come was oddly tucked away in a display area in the pit garages, the same car we had viewed on the concept lawn at Pebble Beach a few weeks earlier. It was the the all electric powered Porsche Mission E sedan, on which the company's forthcoming 2020 Taycan is based.
It is the advanced future tech of Porsche to meet the demands of a changing industry. Porsche, Audi, BMW, Mercedes… the list goes on. They are all heavily investing in a hybrid and electric future. We will see new technologies that push the envelope of performance both in power and energy. The results of this new future may be stimulating in their own way, but the sounds and smells will be very different. Much of the connection between gearhead and auto arrives via full sensory assault. Yes, it may not be proper to say so in today's environmentally consciences world, but the smell of racing fuel draws out our inner child bringing pulse pounding anticipation. The same with sound. While the future of electric may usher in unheard of performance possibilities, will it be able to bring the excitement of a flat 12 cylinder racing engine, or the high pitch whine of V6 twin turbos at 9000Rpms? Probably not for most attendees to Rennsport. Its perhaps a future that only our children will understand and appreciate.
Will that future provide the visceral experience keep the car culture alive? We don't know. We'll wait and see and follow the progress with you. We're sure that sportscars will continue to get, lighter, faster, stronger, more efficient and at the same lighting-fast rate they advance now. And if we're lucky, in the future, the government will allow, and car companies will still be able to produce (at least a few) machines that deliver the full spectrum of what we love and desire in automobiles. That's why Rennsport VI was so good. We got so see it all in one place….past, present and future…from tractor to Taycan, if you will.