While you were engaging in various Memorial Day weekend activities these are the things you missed:
2014 Monaco Grand Prix
[youtube id="oFme6EnnJLU"]
The Monaco Grand Prix is the oldest race on the F1 Calendar and the only current track that uses real city streets.  Race on Sunday, stuck in traffic on Monday.  The build up to this year's race revolved around the brewing vitriol between Mercedes teammates Nico Rosberg and Lewis Hamilton.  Hamilton, Britain's richest sportsman with a fortune of £68 million claimed earlier in the week that he was hungrier for wins because he was not a child of privilege unlike like Rosberg.  Hamilton conveniently left out of the conversation that he was recruited/mentored by McLaren when he was 12 years old.
The relationship between these teammates is toxic and TLP predicts that before the season is over Mercedes will write off a few cars.  Mercedes refuses to implement team orders and have bragged repeatedly that they let their drivers race.  Allowing the rivalry to intensify without warning them to keep it clean on track will only lead to the sort of situation that developed with RedBull in 2010 at the Turkish GP.
Evidently Hamilton wasn't hungry enough as he was beaten by Rosberg with Mercedes finishing first and second.
As for the other teams, four time world champ Sebastion Vettal continues to be plagued by bad luck as he retired 8 laps into his 100th race for RedBull.  Somewhere Mark Webber is removing the pins from his Seb voodoo doll.
Poor Kimi.  Gets himself into third place near the start of the race and then gets hit by a backmarker causing a puncture and therefore ruining his race day.
Formula One Standings
As of: Monaco Grand Prix
+/-
Points
Behind
Wins

1

 Nico Rosberg

 - Mercedes

+1

122

‒

2

2

 Lewis Hamilton

 - Mercedes

-1

118

4

4

3

 Fernando Alonso

 - Ferrari

–

61

61

0

4

 Daniel Ricciardo

 - Red Bull

+1

54

68

0

5

 Nico Hulkenberg

 - Force India

+1

47

75

0

6

 Sebastian Vettel

 - Red Bull

-2

45

77

0

7

 Valtteri Bottas

 - Williams

–

34

88

0

8

 Jenson Button

 - McLaren

–

31

91

0

9

Kevin Magnussen

 - McLaren

–

21

101

0

10

 Sergio Perez

 - Force India

–

20

102

0

11

 Felipe Massa

 - Williams

+1

18

104

0

12

 Kimi Raikkonen

 - Ferrari

-1

17

105

0

13

 Romain Grosjean

 - Lotus

–

8

114

0

14

 Jean-Eric Vergne

 - Toro Rosso

–

4

118

0

15

Daniil Kvyat

 - Toro Rosso

–

4

118

0

16

 Jules Bianchi

 - Marussia

+5

2

120

0

17

Marcus Ericsson

 - Caterham

+5

0

122

0

18

 Adrian Sutil

 - Sauber

-2

0

122

0

19

 Esteban Gutierrez

 - Sauber

-2

0

122

0

20

 Max Chilton

 - Marussia

-2

0

122

0
98th Running of the Indy 500
Why did we post this GIF?  Because it literally shows the only exciting part of the race which occurred at the end.
Full Highlights
[youtube id="gYxb6kaQl1E"]
Most of the IndyCar season actually includes very good racing.  We at TLP enjoy IndyCar when they race at road courses or street circuits.  However, in spite of it being one of the world's great motorsport events the Indy 500 was ZZZZZZZZZZZZ.  A 200 lap race that only gets interesting in the last 10.  The Indy 500 at one time in history was the proving ground for one-off designs as the rule book would be expanded to allow increased HP via bigger engines or bigger turbos.  Now, its just another race in the schedule, which is really too bad because it still has the potential to draw entries that would compete just to prove they could build a one-off winner.
A final complaint about the race.  ABC's coverage of the last 10 laps verses the international feed was horrible.  As documented here, ABC decided to run a split screen showing the wife of race winner Hunter-Reay and the girlfriend of Castroneves to get their reactions as the race came to close.  One can only imagine that this was done to try to inject some drama for the non-race fans who happened to be watching but the end result was just horrible.   If two cars going over @220 MPH isn't enough drama for you then you shouldn't be watching.
BlacPain Endurance Series:
[youtube id="QGkNxkTdoXg"]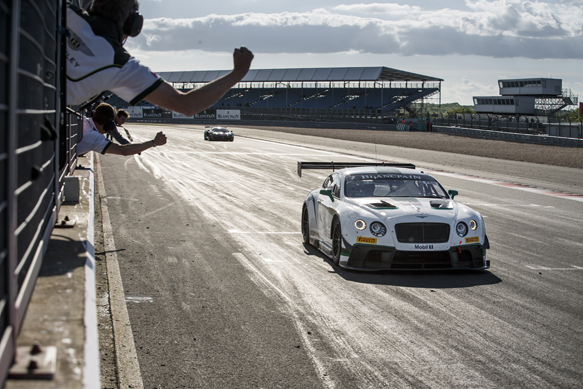 Bentley's new Continental GT3 claimed a maiden race victory on home soil in round two of the Blancpain Endurance Series at Silverstone.
The M-Sport Bentley Continental GT3 shared by Guy Smith, Andy Meyrick and Steven Kane came back from a drive-through penalty in the first hour to take the lead from the leading ART Grand Prix McLaren driven by Andy Soucek in the closing stages.
The Bentley ran second and then third in Smith's hands before the penalty for improving his time in the opening sector when yellow flags were on display.
WTCC Salzburgring
Great on-board footage of race start of WTCC at Salzburgring.
[youtube id="Ndnhp8-V95M#t=81"]