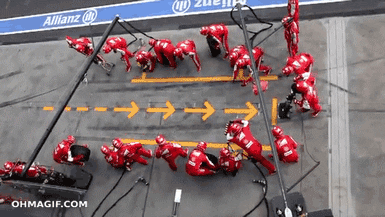 F1 is back, and it begins with this weekends Australian Grand Prix.  NBC Sports has the following coverage (all times PST):
3/13 9:30 PM: Australian Grand Prix (Practice 1)NBC Sports Network
3/13 10:30: Australian Grand Prix (Practice 2)NBC Sports Network
3/14 11:00 PM: Grand Prix of Australia (Qualifying)
3/15 1030 PM: Grand Prix of Australia (Race)
 [embedplusvideo height="400" width="450" editlink="http://bit.ly/Py5522" standard="http://www.youtube.com/v/49moEyk29y0?fs=1&vq=hd720" vars="ytid=49moEyk29y0&width=450&height=400&start=&stop=&rs=w&hd=1&autoplay=0&react=1&chapters=&notes=" id="ep3912" /]
Can You Smell It? When the dudes (co-founders) of this site head to race weekend, or when the calendar gets near some type of motorsport event that we will drop everything for, this is the question that comes up. For us, it's not just the excitement of impending automotive madness but a feast of the senses.  As the F1 season is only days away, we can already smell the burning fuel, and built up clag.  2014 marks the beginning of a new era in F1 as the rule changes attempt to make the sport more efficient in order to keep pace with the general opinion that everything must be green, environmentally speaking.  Let's not get caught in the complexities of the rules changes.  F1 is still the pinnacle of motorsport and technology.  It is the last place for some of the world's best automotive engineers to design new technologies in the quest for a world title.  Most road cars built today owe their technology advancements to technologies development in F1.  This is where the big boys come to play with budgets in the hundreds of millions of dollars for some teams, while others barely hang on.  This is our Super Bowl, World Series, and World Cup that will take place over 19 races in 19 countries. 
If you already know F1 then we know how excited you are.  If this is your first encounter then set your DVR (or watch it live) and prepare to be hooked.  
Television Coverage:
Here in the U.S. F1 is covered by NBC Sports with some races broadcast by NBC.  Let us apologize in advance if you are forced to watch NBC sports coverage.  If you have a way, we highly recommend that you find a way to catch the Sky Sports and BBC broadcast of F1 if you can.    Network coverage of F1 in the U.S. is abysmal.  Not just the lack of pre and post-race coverage (like the non-stop all day NASCAR coverage), but the actual coverage itself is horrid.  For those that have watched F1 for many years you know what I'm talking about.  We had to suffer through the Speed Channel trio of Hobbes, Varsha and Matchett.  This bloviating trio, that once described Lewis Hamilton as "African-American' (He is a British citizen and his parents are from Grenada), tortured existing fans of F1 and probably turned away potential new fans with their inaccurate predictions, manufactured story lines, and infantile descriptions.  I remember that one of my own early introductions to F1 was a 30 minute discussion concerning a lose piece of tape hanging off of a car.  Listening to this trio was painful, but I suffered through.  Once Speed Channel disappeared into the NASCAR abyss, NBC bought the rights to host F1 coverage in the U.S.  I reserved some hope that it would improve.  It did not.  The new coverage dropped Matchett and replaced him with Leigh Diffy in combo with Hobbs and Varsha and Will Buxton who actually was in the pit lane.  It is important to note that the commentary from the time of Speed Vision to the current NBC coverage is that the announcers are in a studio and never at the actual race location, while European coverage is live at every race.  Over the last season and half I have been lucky to be able to get BBC and Sky Sports F1 coverage.  WOW!  First, they have a full hour intro show before qualifying and the race that includes detailed interviews with drivers, team principals and other personalities related to the sport.  They also include little segments on the local culture and country that the race happens to be in.  BBC/Coverage doesn't treat the viewer like an dummy.  If you have never watched F1 before then the coverage by former drivers David Coultard, Martin Brundle, Damon Hill and former team owner Eddie Jordan will sell you on F1 and its glamour without the need to whack you over the head with rule books and overly detailed descriptions of things you will learn about over time.  BBC/Sky exhibits F1 the way it should be, like the coolest tech gadget you have…you don't understand everything it does and you will never use it to its full potential, but man it is soooo good.    While NBC sports condensed qualifying coverage into nothing, and cut away from races before the podium celebration, Sky/BBC remained on the scene around for an hour post-race.  Like any sport, the viewer's invest in their heroes and European coverage pays the viewer back for the investment.  Domestic coverage of F1, not lack of passing or complicated rules, is what turns off the American audience.  Viewers are willing to invest their time and precious Sunday mornings, but only if the returns are triple A, not the junk bond scraps offered by NBC Sports.
New Rules:
The new rules and technological barriers could potentially create some drama this year.  The head of Magneti Marelli, electronics supplier of F1, Roberto Dalla, has said that the lack of preseason testing with the new electronic components could mean that no car is able to finish the grid on the first race.  Hyperbole, yes, but that could lead to some very interesting race results. 
Sauber F1 Team has put together a nice guide on the overall rule changes. 
Official Formula 1 Video outlining new regulations.
In closing, we originally thought that we would post a team by team break down for the upcoming season, but then weremembered that this is what most pundits do, and that they are more often wrong than right.  Rather than bore you with our opinions, we suggest that you just watch the season and enjoy.  We hope to bring race reviews after they happen with potentially some edited video footage. 
Season Schedule:
Date                            Race    Venue  
16 Mar                        Australia           Albert Park   
30 Mar                        Malaysia          Sepang           
6 Apr                          Bahrain          Sakhir  
20 Apr                        China              Shanghai         
11 May                       Spain               Circuit de Catalunya   
25 May                       Monaco          Monte Carlo    
8 Jun                           Canada           Montreal         
22 Jun                                     Austria            Red Bull Ring  
6 Jul                            Great Britain  Silverstone Circuit      
20 Jul                          Germany        Hockenheim    
27 Jul                          Hungary           Hungaroring             
24 Aug                        Belgium          Spa-Francorchamps  
7 Sep                           Italy                 Monza  
21 Sep                        Singapore       Singapore        
5 Oct                           Japan              Suzuka             
12 Oct                                     Russia             Sochi    
2 Nov                          United States  Circuit of the Americas          
9 Nov                          Brazil              Interlagos        
23 Nov                        Abu Dhabi      Abu Dhabi