2019 Rolex Monterey Motorsports Reunion: IMSA Birthday Blowout
Monterey Car Week is an intense and whirlwind display of automotive excellence. Over the years the number of the events that occur in mid-August of each year seems to have grown exponentially. There are car shows, car parades, car auctions, cars park in parking lots, cars on the streets. Whatever one's preference, it can be found during Car Week. Sure, the famous linchpin of Car Week is the Pebble Beach Concours d'Elegance, and we don't dismiss its prestige or importance, but for us the track at WeatherTech Laguna Seca Raceway and the Monterey Motorsports Reunion is where the magic really happens. Nothing in the world gets us more excited than Car Week and no event more than the Rolex Monterey Motorsports Reunion.
We preach the gospel at every opportunity. On the first night of this year's garage stalking sessions of Cannery Row looking for hypercars we met some young men also on the treasure hunt. Happy to see any young person looking for car photos and not tracking down Pokeman warms our hearts, and we took a few moments to explain to these young gentlemen that no matter what hypercar you find crawling the streets during Car Week, the track is where the real education begins. No garage queens or hermetically sealed art pieces. The cars at the Reunion span almost 100 years of automotive history and each one hits the track at some point in the weekend.
When it was announced that this year's event would focus on the International Motor Sports Association's (IMSA) 50th birthday, we got excited….very excited indeed.
Before we get into the event, some of you might need a primer on exactly what IMSA is. Discussing a sport's sanctioning body isn't all that sexy, but it is relevant. 50 years of anything is worth talking about, and 50 years of some of the best auto racing on the planet is doubly so.
From IMSA.com:
"The sanctioning body was founded in 1969 by John Bishop with the assistance of NASCAR President Bill France Sr. Bishop was a 12-year employee of the Sports Car Club of America, who elected to follow his own vision for professional road racing. Bishop and his wife, Peggy, brought a family-style feel to the organization, based in Bridgeport, Conn.
The first IMSA-sanctioned race was at Pocono International Raceway in Oct., 1969, a Formula Ford and Formula Vee event that paid $3,000 and attracted 348 spectators. Bishop abandoned his plans for open-wheel competition by the end of 1970, concentrating on forming a six-race series in 1971 for FIA Group 2 and Group 4 sports cars, along with "Baby Grand" stock cars.
That series became the IMSA GT Series . The R.J. Reynolds Tobacco Company began sponsoring what became Camel GT in 1972, and the series quickly gained in popularity. Bishop's vision of adding prototype sports cars in the early 1980s proved to be a huge success, and the series thrived throughout the 1980s with many of the top names in U.S. and international sports cars battling on North America's top road circuits in Porsche, Jaguar, Ford, Nissan, Chevrolet and Toyota Camel GTP Prototypes.
In addition to the GTP Prototypes , Camel GT also featured Camel Lights Prototypes and production-based competition in the GTO, GTU and American GT classes. IMSA also sanctioned American stock cars in the Kelly American Challenge; small sedans in the Champion Spark Plug Challenge; production cars in the Firestone Firehawk Endurance Championship; exotics in the Bridgestone Super Car Championship; and open-wheel cars in the Barber Saab Pro Series.
Bishop sold the organization to Florida businessmen Mike Cone and Jeff Parker in 1989. The company was relocated to Tampa, Fla. With a sharp drop in participation in the GTP class due to a challenging economy, IMSA announced a shift to a revolutionary concept for 1994, introducing the World Sports Car, an open-cockpit prototype.
There were many additional changes for 1994. Florida businessman and GT racer Charlie Slater purchased IMSA. Exxon USA took over sponsorship of the series, which became the EXXON World Sports Car Championship, while GT competition took place in the EXXON Supreme GT Series.
In September 1996, the International Motor Sports Group – a conglomerate including Roberto Mueller and Andy Evans – purchased IMSA and changed its name to Professional SportsCar Racing for 1997.
Many changes took place over the following three years. The United States Road Racing Championship sanctioned races with the assistance of the Sports Car Club of America in 1998-99.
While originally affiliated with the USRRC, Don Panoz departed to hold the inaugural Petit Le Mans endurance race at Road Atlanta in 1998. He expanded that concept into a full series in 1999, the American Le Mans Series. He envisioned bringing European-style endurance sports car racing to America – highlighted by the 12 Hours of Sebring and Petit Le Mans. Panoz also acquired rights to IMSA, which became the sanctioning body for the organization.
Faced without a sanctioning body for Daytona International Speedway's flagship road race, Jim France put together a team of investors who shared his vision for a new North American sports car championship to carry on the legacy of the series co-founded by his father, Bill France Sr., 30 years earlier. GRAND-AM Road Racing debuted with the 2000 running of the Rolex 24 At Daytona, and ran its opening three seasons with similar classes to the ALMS.
From its birth in 1999, the ALMS proclaimed its racing "For the Fans," and built a loyal group of followers. The series later undertook a number of initiatives to become recognized as the Global Leader in Green Racing, gaining both national and international recognition for its Green Racing protocols.
GRAND-AM took a radical step when it introduced the Daytona Prototype as its lead class beginning in 2003. The new car became popular with both fans and drivers for its durability, affordability and safety. The DP attracted competitors from NASCAR, IndyCar and international sports car racing, especially to GRAND-AM's marquee events at Daytona, Watkins Glen and Indianapolis Motor Speedway.
While both series were successful on their own, it became apparent that they would have to combine in order to grow the sport. The two groups announced in Sept. 2012 they would merge into one organization beginning with the 2014 season. Fittingly, it was also announced that the unified series would be sanctioned by IMSA.
IMSA's WeatherTech SportsCar Championship opens with a pair of historic events – the Rolex 24 At Daytona and Mobil 1 Twelve Hours of Sebring fueled by Fresh from Florida – building on the vision of John Bishop and Bill France Sr. from 45 years ago."
In a nutshell, if you've enjoyed professional racing in the US for the last 50 years, IMSA has had some hand in insuring that it was safe, well managed and indeed, professional. Our hats are off to IMSA for their work and dedication to the stewardship of our favorite sport.
And now, on to the show…..
And what a show it was. As we expected from the release of the entry list, (550 cars in 14 groups) the paddock of WeatherTech Raceway Laguna Seca was packed with awesome. Along with the cars we're reunited with almost every year, there were many cars we'd never seen before. It's crazy to think that after watching and reading about racing for over 20 years that there'd be anything new to see. But there was a lot to take in…more curves, more wings, more cylinders, more paint & chrome and more history. Adding to the diversity this year, and as noted in our report on the Sonoma Speed Festival, is the inclusion of "later" model cars that now fall under the banner of "vintage" and/or "historic race cars. We're not complaining…we're glad to see all of the diversity. We love that one event can highlight cars made with wood and bicycle pumps at the same event with cars made of computers and carbon fiber. To prove the point take a look at the 1916 National AC on the left and the Audi R8 LMP on the right.
Along with the standard historic/vintage fare, a few major automakers flashed some of their new wares in the paddock. Not surprisingly, the biggest attraction by far was Chevrolet's new C8 Corvette in a new color called called Zeus Brown. Based on what we'd seen of the C8 from the internet over the past few weeks, our jury is till out on the new Vette. Unfortunately, seeing it in about the most unexciting color, did't exactly help us deliver our verdict on it. Though admittedly not our cup of tea, we were glad to finally see one in the flesh.
On the other end of the excitement spectrum was the car Ford brought to the party. As you may or may not know, Ford is discontinuing its factory GT racing program….but they're launching one last salvo. Ford Performance and Canada's Multimatic Inc. are making a limited run of 45 track only Mk II cars that will set folks back $1.2 million (starting price). This monster with sport enhanced aero kit and a 3.5 liter EcoBoost engine (and a cool snorkel intake!!!). Ford did't play it safe on their presentation. Heck, they didn't even show it in one of their heritage liveries. This beauty sported the same Ford/Multimatic livery featured at the car's debut at the Goodwood Festival of Speed last month. Not over the top…just right!
Just outside the main paddock, in the lagoon area, were a few equally sensational cars from a couple of the world's smallest automakers, presented by Michelin. Scuderia Cameron Glickenhaus doubled down with a spectacular blue carbon SCG003 and the outrageous new Steve McQueen homage, the SCG Boot. We've been waiting to be in the presence of any SCG and now, of a sudden, there were two. We were unprepared for the blue carbon magnitude of the 003 and completely astounded by the radical look and sheer girth of the Boot (that we didn't even know existed).
The very next day, in the same spot, we were blown away again by the presence of not one, but two Koenigseggs. I was so thrown by seeing the new Jesko (pronounced Yess-Ko), I didn't notice the second car, a lovely two tone Agera RS. Speaking of the Agera, the Jesko, a tribute to the founder's father, will be the Agera's successor. This twin turbocharged aerodynamic masterpiece will produce over 1,200 horsepower on pump gas and cost around $2.8 million. Year after year, Michelin's lagoon display inspires awe.
BMW had a heavy presence at the Reunion with four iconic racers The 1975 Group 4 3.0 CSL, the 1999 V12 LMR, the 2001 E46 M3 GTR and the 2011 E92 M3 GT. These cars all competed in the Masters Endurance Legends class, involving two 40 minute races. The BMW V12 LMR in the hands of long time BMW driver Bill Auberlin put on a masterclass in Sunday's 40 minute race. After going off track in the opening laps Auberlen fought back to second place. Watching a seasoned professional racing driver carve his way way through a field of legendary endurance racing machines is, to use an overused adjective, epic. Even by today's standards the Williams and BMW developed V12 sings a song like no other, and looks just as fast as it did on its first win at the '99 12 hours of Sebring in the hands of Tom Kristensen, Jorg Muller, and JJ Lehto. This collaboration between BMW and Formula 1's Willams team produced only four examples of the LMR.
The fun wasn't over. Making a return to the Reunion was McLaren's two-time Formula 1 world champion, Mika Hakkinen. The Flying Finn was on had to drive demonstration laps in the 1970 McLaren M8D/3 "Batmobile" Can-Am racer. While only responsible for "demonstration laps" a description leaving broad room for a driver to dial it in, or drive the wheels off. Hakkinen chose the latter and pushed the M8D/3 McLaren like he had been driving it all his life. The McLaren lacking in the aero grip of modern race cars made up for its limitations through shear and raw power with its Chevy 7 liter V8 putting out 670bhp at 6800rpm with 600 lb⋅ft (810 N⋅m) of torque. We witnessed Hakkinen clock 175mph on the main straight. Not bad for an almost 50 year old car.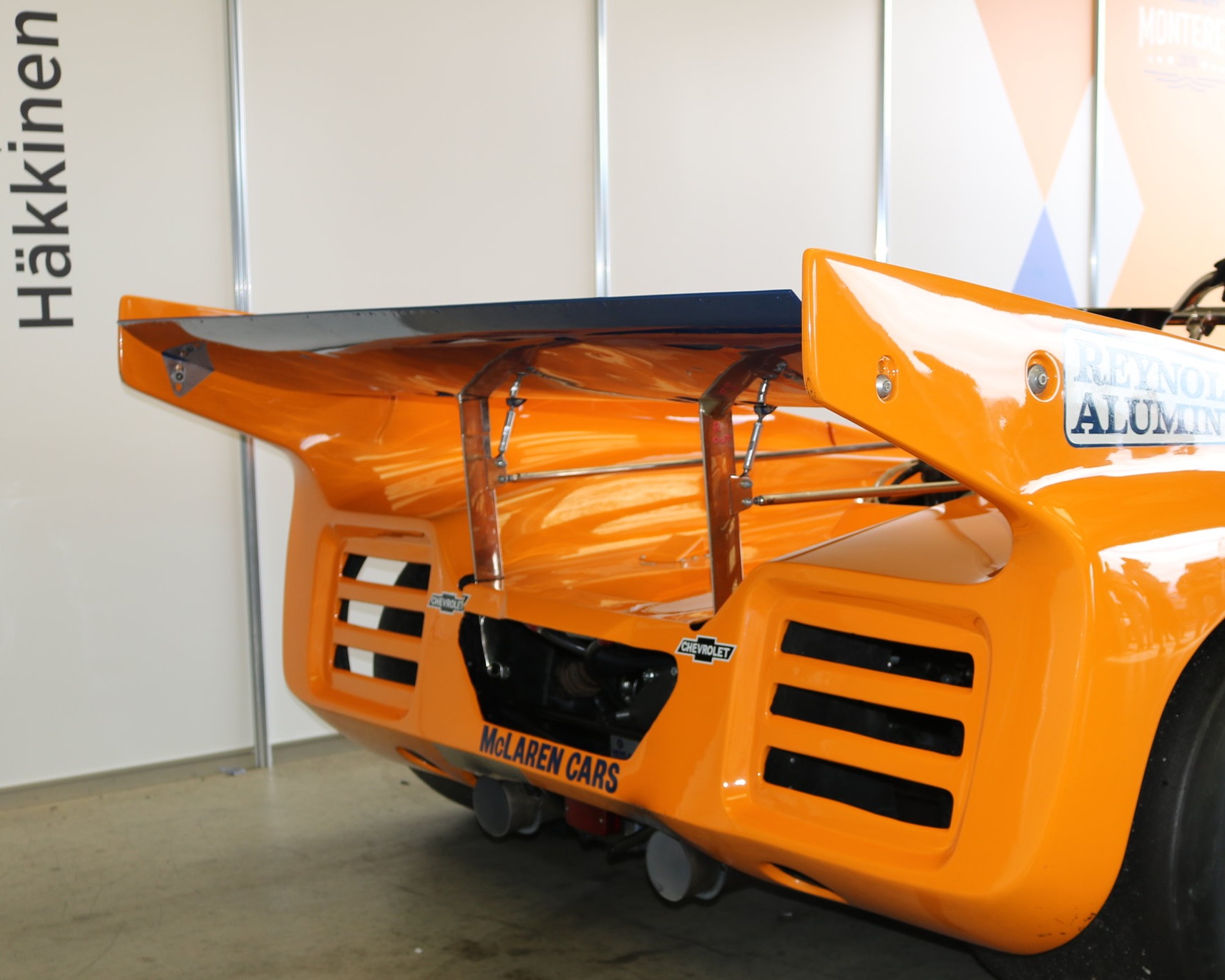 It wasn't just Hakkinen that came to put his foot down. The weekend was packed with legends of sports car racing. Brian Redman was on hand bringing back memories of his time at the 1976 Rolex 24 at Daytona where he worked on his on car while it was stopped on track. Current Team Penske driver Ricky Taylor was there as was nine-time Le Mans winner Tom Kristensen. IMSA legend Hurley Haywood was the Grand Marshal and spent the weekend signing autographs and posing for photos for eager fans. There were dozens of previous and current sports car drivers all approachable for fans to interact with. The Reunion wasn't just about cars, it was a Reunion of the best racing talent that has even been a track. Happy 50th Birthday IMSA!!!
We had big expectations for the Reunion and we can happily report that it met our expectations and more. Its an event of pure joy, and one of the last events outside of Europe that is a living homage to racing history. As always, we think our pictures tell a better story than our words ever could. That said, please check out the galleries below featuring the people and cars of the 2019 Reunion.
The People