2019 Blancpain GT World Challenge: Sonoma Edition
What's old is new. At Sonoma Raceway a weekend ago was the stop of the 2019 Blancpain GT World Challenge America, the first time the series, under its new name, has visited the rolling hills of Sonoma. If you are reading this and wondering what is this new series, the good news is its a furtherance of the Pirelli World Challenge continuing its 13th season under the sanctioning of the United States Auto Club (USAC). It's the first season under the Blancpain sponsorship banner and under management of the Stephane Ratel Organization (SRO). SRO maintains promotion and management of the Intercontinental GT Challenge, Blancpain Endurance Series, Blancpain GT World Challenge Europe, Blancpain GT World Challenge America and Blancpain GT World Challenge Asia. That's five continents of racing. The history of these events under the Pirelli World Challenge sponsorship was typically the "undercard" to the main event at many race weekends, such as IndyCar and the WeatherTech SportsCar Championship.
Before the start of the 2019 season SRO presented a detailed plan to establish uniformity across continents in GT racing so that drivers and teams could compete on a truly global scale. Each weekend involves two 90 minute main event races with a total of 6-hours of overall track time per event. Classes are divided between Pro, Pro-Am, Silver and AM. A full description of regulations can be found here.
As with the Intercontinental GT Challenge that raced the California 8 Hours earlier this year Laguna Seca, SRO events follow a pattern of maximum engagement with fans. We have long commended those series that provide opportunities to be up close to the action with the lowest ticket price possible.
However, we digress. Enough talking about the rules and organization. The real reason for paying attention was the line-up of race ready top spec racing machines. Sonoma Raceway is also home to, in our view, the most intriguing and brutish (and…er..British) cars on the track, the K-Pax Bentley Continental GTs. The Porsche 911 GT3 R is also something to behold with its familiar 911 silhouette coupled the most aggressive aero and design features you can find in a racing GT car. Of course the Ferrari 488 GT3s are fun to listen to as they are to look at. On the other hand, the Bentley's are something on their own. Perhaps it's because when one thinks of Bentley the initial thought is luxury and fresh leather, or soft suspension to absorb every imperfection on the road #wooosh. That would be a mistake. Bentley has a long history of motorsports achievement and Sonoma's own K-Pax racing is writing a new chapter in Bentley's motorsport lineage in North America. The Continental GT3s are not the refined road cars seen cruising your local golf club. They're big British full backs serving up some attitude. That sound though. They emit a snarling rumble more akin to an all-American big block than a refined British racing machine.
Two Bentleys paired Alvaro Parente/Andy Soucek and Rodrigo Baptista/Max Soulet in the two team cars. Expectations were low as even K-Pax knew that the sweeping and rolling turns of Sonoma were not friendly to the Bentley's abilities. Exceeding expectations, the Bentleys captured second and third place on Saturday and third place on Sunday with good pit stop strategy and fighting through the field.
It would be breakthrough weekend for the new-gen Porsche GT3 R as Patrick Long and Scott Hargove would take the win for Wright Motorsports. Turn on a television most weekends and somewhere around the world you are likely see Porsche factory driver Patrick Long fighting for a podium or win in a Porsche. It was the first win for the new gen-Porsche the series and not likely to be it's last this season.
Saturday's race saw the R. Ferra Motorsport Ferrari 488 GT3 driven by experienced duo Miguel Molina and Toni Vilander take the win on Saturday and finish second on Sunday. R. Ferra Motorsport left Sonoma leading in the driver's and manufacturer's championship.
The RealTime Racing Acura NSX GT3 driven by Dane Cameron and Mike Hedlund won the World Challenge America Pro-Am class Saturday with fifth place overall. Dirk Werner and James Sofronas took Pro-Am on Sunday in the GMG Racing 911, finishing sixth overall.
Finally, just to demonstrate the international talent on display in Sonoma, five drivers made the trip directly from Sonoma Raceway to Le Mans after the last race on Sunday: Patrick Long, Matt Campbell, Toni Vilander, Miguel Molina, and Rodrigo Baptista.
In the middle of all the touring car madness was a corral of mostly modern import cars and vans. We're not well versed in this scene, but we sure as hell enjoy the differing levels of restoration, customization ornamentation and lack of elevation. Please enjoy this gallery from the import corral.
As we were taking in all the racecars in the paddock, something very white and very sporty drove past us and down the row too fast for us to figure out exactly what is was. From the rear, we agreed it had similarities to Aston Martin…but then a little of the newer Porsche DNA maybe??? As we got closer we saw how wrong we were…so very wrong. It was the all new (to us at least) Saleen 1. You can buy this mid-engined, turbocharged 450HP I4 powered aluminum and carbon fiber super car for about $100k. If you're not inclined to actually own one, Saleen has a way for you to wet your beak without having to sacrifice any precious garage space. They've created the Saleen Cup Series that will run on specified Blancpain GT World Challenge America race weekends. 20 equally prepared, track ready Saleen Cup cars will race in 50 minute races with the option to swap out for a second driver (event/season costs can be split between two drivers. Those who want to circulate in this spec super car series, will have to pay the admission price of $42,000 per race weekend, or $168,000 for the whole season.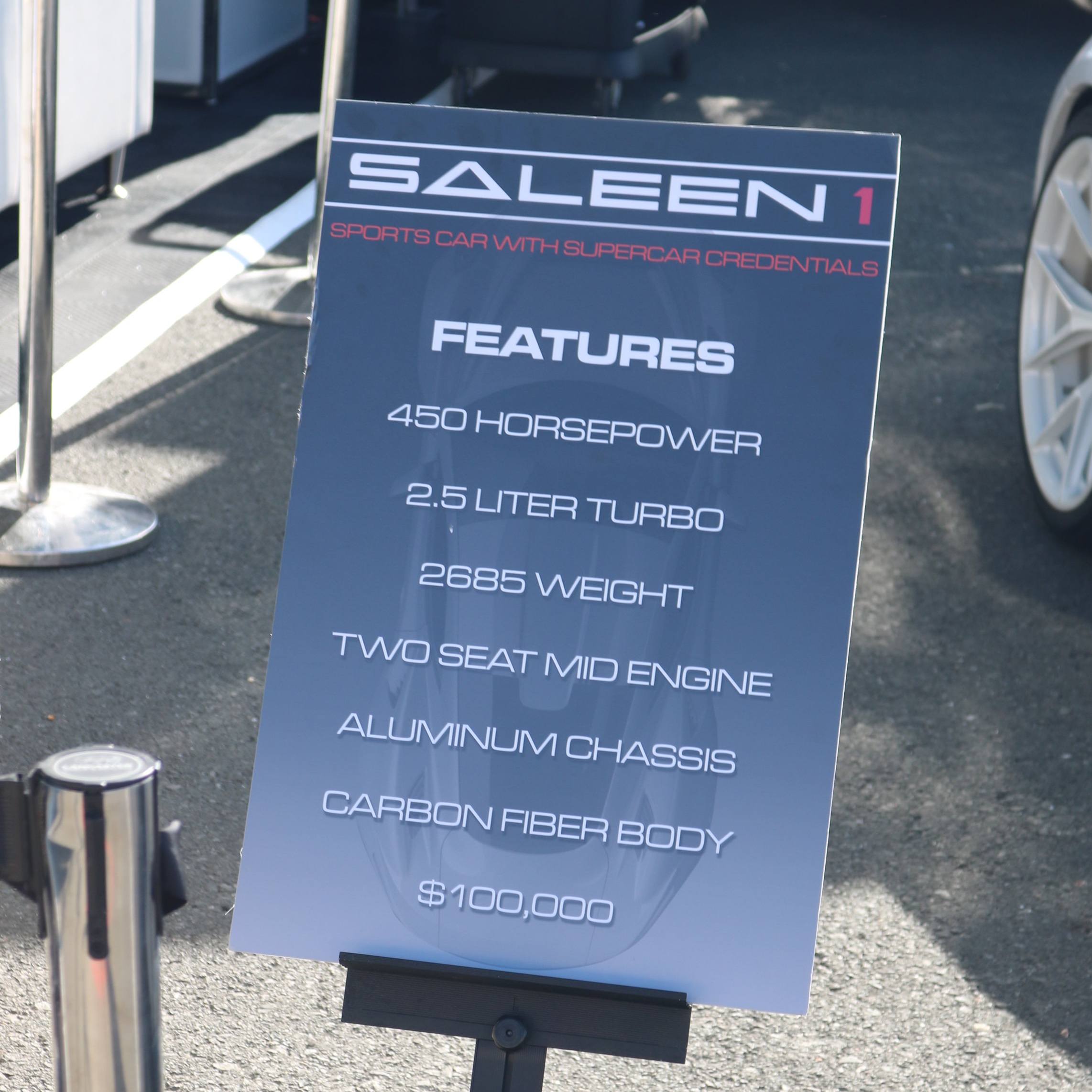 ***Note*** The following gallery also contains cars from other Pirelli racing classes that raced at the three-day event. These other touring cars raced against each other in the GT4 America, TC America, TC America TCR, TC America TC and TC America TCA classes. Please enjoy the gallery!